The Department of Industrial Relations' (DIR) new criteria for determining who can serve as a QME without going through due process is the center of a new controversy and complaint against the DIR and its director, Christine Baker.
Employers rights attorney Nicholas Roxborough filed the suit in the Los Angeles County Superior Court on behalf of three QMEs whose recertification were denied without notice or first conducting a hearing.
"Denying QME reappointments without a hearing over simple billing disputes is unprecedented and violates our clients' most fundamental due process rights," said Roxborough in a recent 
WorkCompCentral
 article that focused on this case in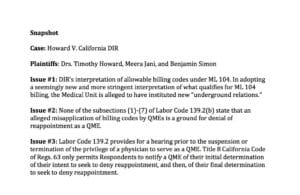 detail.The denial came after DIR and Department of Workers' Compensation (DWC) officials raised allegations that each had violated the state's medical-legal fee schedule, and yet the DIR had not granted a hearing for the doctors to dispute the allegations nor responded to requests for reinstatement until such hearings took place.
Roxborough told Workers' Comp Executive in an exclusive article about the case, "Respondents are acting both as the prosecuting attorney and the judge regarding enforcement of Respondents' own illegal regulations, thus imposing the sentence of denial of QME reappointment licenses before any evidence is presented before an impartial body."
---
By effectively challenging and attempting to eliminate hourly billing code 104 for QMEs, the DIR/DWC have improperly accused QMEs of having violated the medical-legal fee schedule, thereby purporting to justify Respondents' denials of reappointment licenses to hundreds of QMEs. Respondents are essentially accusing QMEs of fraud, where none exists or has been proven, and are using these allegations as a pretext to demanding payments, the failure of which is to then lead Respondents to deny QMEs their license to serve as QMEs.
---
The case not only challenges the denied recertification, but the DIR's analysis of the disputed bills. The DIR created new rules changing the medical-legal fee schedule applicable to QMEs and effectively eliminating hourly billing code ML 104, without following the necessary rule-making procedures under the Administrative Procedures Act, Government Code § 11340, et seq.
According to the detailed lawsuit, approximately 400 doctors have been systematically denied and eliminated from the system by what amounts to the DIR's "underground regulations," where internal guidelines and actions consisting of statutes and regulations that have been supplemented with new, different and/or additional criteria have not been properly adopted through the Administrative Procedures Act.
The complaint asks the court to declare that the DWC has adopted underground regulations, and order the agency to stop relying on the alleged improper rules. It is also seeking a court order directing the DWC to immediately reappoint the plaintiff's certification to serve as QMEs, pending the conclusion of a hearing on the merits of the improper billing allegations. The mere filing of this case has already started to permeate the four corners of the healthcare community, the legal community, key organizations within the State of California and the injured worker community.
For questions about the due process right of QMEs and more information about this suit, please contact Nicholas Roxborough, Burton Falk or David Carman at 818.992.9999 or via npr@rpnalaw.com.
Third-Party Coverage of Complaint
"See Ya In Court," Workers Comp Zone
"Providers Say DWC Used Underground Regs to Deny QME Recertification," WorkCompCentral (subscription required)
"DIR Terminates 400 QMEs Without Hearings," Workers' Comp Executive
Snapshot
Case: Howard V. California DIR
Plaintiffs: Drs. Timothy Howard, Meera Jani, and Benjamin Simon
Issue #1: DIR's interpretation of allowable billing codes under ML 104. In adopting a seemingly new and more stringent interpretation of what qualifies for ML 104 billing, the Medical Unit is alleged to have instituted new "underground relations."
Issue #2: None of the subsections (1)-(7) of Labor Code 139.2(b) state that an alleged misapplication of billing codes by QMEs is a ground for denial of reappointment as a QME.
Issue #3: Labor Code 139.2 provides for a hearing prior to the suspension or termination of the privilege of a physician to serve as a QME. Title 8 California Code of Regs. 63 only permits Respondents to notify a QME of their initial determination of their intent to seek to deny reappointment, and then, of their final determination to seek to deny reappointment.