As many California employers know all too well, wage and hour class actions are on the rise. A quick Google search of any combination of the words "California", "wage and hour" and "class actions" results in thousands of results, a number of them actual cases involving disgruntled employees seeking millions of dollars from their employers. Indeed, court reports reveal that these cases are filed weekly, if not daily, and that substantial amounts of money are at stake.
One employee can bring a claim on behalf of all similarly situated employees. What's more, these wage claims are typically brought in conjunction with a business violation claim under California Business and Professions Code Section 17200 et seq., which expands the claim and allows the complaining party to go back four years from the filing of the lawsuit. For current — and former — employees who were/are paid weekly, the employer is required to analyze back pay data on a weekly basis for each employee, going back four years from the lawsuit's filing date and up to the present. If you think this sounds like a lot of work, you're right. Avoid this situation with the guidance of experienced legal counsel.
In a case that could be of significant benefit to employers in California and throughout the country, the Ninth Circuit Court of Appeals recently affirmed that employee plaintiffs failed to satisfy the "commonality" requirement essential to a class action on their wage-hour claim where they had the authority to edit the time entries that served as the basis for their claim (Coleman v. Jenny Craig, Inc., 2016 U.S. App. LEXIS 7164 (April 6, 2016)).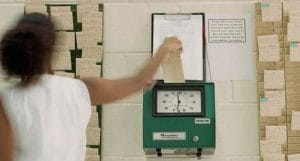 The Ninth Circuit held that, for the plaintiff to show commonality on her claims, she must show a common practice of Jenny Craig forcing employees to take short or late meal breaks and that a common practice of simply not paying wage premiums, standing alone, is insufficient to show commonality under the FLSA and California statutes. The lower court found that Jenny Craig did not have a common practice of forcing employees to take short or late meal breaks and as a result, the Ninth Circuit held that the court was correct in finding that the plaintiff had not proven the existence of a common practice necessary to maintain a class claim.
The employer, Jenny Craig, offered employees the opportunity to edit their own time entries to ensure that they were paid for time worked if they had short or late meal breaks. Therefore, it appears that an employer with a time keeping system which provides employees with the opportunity to review, edit, and certify their time entries will arguably be in a position to assert that fact as a defense to any class action wage claims they may face.
For more information on avoiding and/or defending wage and hour claims, contact experienced business lawyer Drew E. Pomerance today.