RPNA's Nick Roxborough Offers Expert Advice on Workers' Compensation Side Agreements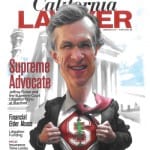 Arbitration clauses contained in side agreements to workers' compensation policies have been a hotbed of controversy for years and a topic of focus in the June issue of California Lawyer.
In his article titled "Side Agreements Derailed," RPNA Partner Nicholas Roxborough takes a close look at a recent New York decision in Monarch Consulting Inc. vs. National Union Fire Ins. Co., that voids out-of-state arbitration clauses in  California.
He discusses the future impact of the Monarch ruling on California employers, which may profoundly affect those who were issued workers' compensation policies with unfiled side agreements.
"The Monarch decision could invalidate side agreements used by California workers' compensation carriers."
Roxborough says the decision potentially "levels the playing field for California businesses who are no longer required to litigate policy disputes in another state." He anticipates the ruling may well spur a California appellate court to publish an opinion along the same line.
Meanwhile, he advises that policyholders "be aware of the legal infirmity of unfiled side agreements" and to keep an eye on AIG's appeal (AIG was the petitioning carrier in the Monarch case), which was filed shortly after the ruling.
Click here to read the article in California Lawyer magazine. For more information about the Monarch decision, please contact Roxborough, Pomerance, Nye & Adreani LLP at (818) 992-9999.