So proud to be an Airport Commissioner and a humble attendee with colleagues from LAWA at the extraordinary GLAAACC Gala honoring all the great work they have done and continue to do in LA. – Nick Roxborough
From Justin Erbacci, CEO of Los Angeles World Airports:
On Friday of last week, we reached a post-pandemic high of 108,164 passengers who went through TSA security checkpoints at LAX, or approximately 216,000 total estimated travelers going through our airport. Throughout the weekend, planes were flying nearly full, with average load factors of over 90%. Despite the post-pandemic record numbers of passengers, our team, working collaboratively with all our partners, was more than up to the task and was able to continue to ensure our operations ran efficiently and that we provided a superb customer service. We still have at least one more week of Spring Break travel ahead of us, and we already are looking ahead to a busy summer. Thank you to everyone for the role you play in making this possible.
Los Angeles Airport Police showed another side of their teamwork over the weekend, celebrating Team LAX's great success in the Challenge Cup Relay Baker to Vegas. Competing in the 800 division, they placed 2nd and made the podium for the first time in the history of the team. Additionally, in a field of over 250 teams they ranked 22, moving up 48 spots. Congratulations to the team, pictured below, on this incredible feat.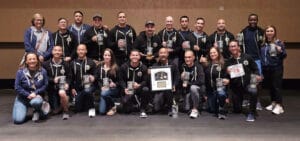 Last Thursday evening, Board of Airport Commissioners Karim Webb and Nicholas P. Roxborough joined members from our airport management team at the 29th Greater Los Angeles African American Chamber of Commerce (GLAAACC) Annual Economic Awards Dinner in support of their mission to promote the growth and economic development of African American business enterprise. Congratulations to all of the 2023 winners. Pictured below are Commissioner Nicholas P. Roxborough, Commissioner Karim Webb, and LAWA DEDs Aura Moore, Harold Samms and Martin Elam.