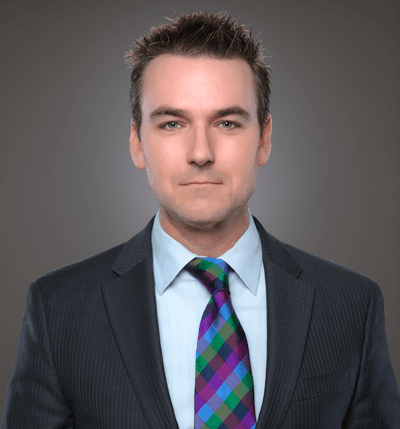 Joseph C. Gjonola
Partner
5900 Canoga Avenue, Suite 450 Woodland Hills, CA 91367
Ph: (818) 992-9999 | Fax: (818) 992-9991
jcg@rpnalaw.com | Download vCard

Joseph C. Gjonola practices in the areas of general business litigation, complex commercial litigation and intellectual property. He also specializes in writs and appeals. His record reflects versatility in legal substance and procedure, from advocating for individuals in mediation to confronting large corporations in federal courts.
Mr. Gjonola seeks to protect businesses from insurance companies who breach their contracts or act in bad faith, which can increase costs and drain profits. In addition, he represents physicians, psychologists, and medical device manufacturers in litigation, contract negotiation, and regulatory matters. He has successfully litigated suits for breach of contract and business torts ranging from conversion to unfair practices.
Prior to joining RPNA, Mr. Gjonola was an Associate at Girardi Keese, where he represented individuals against some of the most powerful industries in the country.  Before becoming a lawyer, Mr. Gjonola gained valuable insight into the insurance industry as a California Licensed Insurance Agent. Mr. Gjonola was also Director of Operations for a fast growing franchise company, where he became personally familiar with the challenges of running a business.
Defeated an insurance company's attempts to force arbitration on its policyholders, and secured a published appellate decision voiding both the arbitration clause and its delegation clause, which would have otherwise required an arbitrator to decide the validity of those provisions.   Luxor Cabs, Inc. v. Applied Underwriters Captive Risk Assurance Co., 30 Cal.App.5th 970 (2018).

Successfully appealed the dismissal of his client's "idea theft" case. An en banc panel of the Ninth Circuit found that federal copyright law did not preempt a California implied contract claim, Montz v. Pilgrim Films & Television, Inc., 649 F.3d 975 (9th Cir. 2011).

Successfully appealed an order compelling arbitration of a workers' compensation claims mishandling and premium dispute case. The New York Appellate Division found that the insurance carrier's arbitration clause was unenforceable because it appeared in a "side agreement" that was not filed with the California Department of Insurance, as required by law. Monarch Consulting, Inc. v. Nat'l Union Fire Ins. Co. of Pittsburgh, 123 A.D.3d 51 (N.Y. App. Div. 2014).

Successfully appealed a dismissal under the anti-SLAPP statute by demonstrating that the process of Utilization Review in the workers' compensation system is not an "official proceeding" as defined by statute. Elec. Waveform Lab, Inc. v. EK Health Servs., Inc., No. B249840, 2015 WL 576595 (Cal. Ct. App. Feb. 11, 2015), review denied (May 20, 2015).

Secured a writ of mandate, vacating a trial court's order that compelled the plaintiff to arbitrate against a related party but non-signatory to the arbitration agreement. DMS Services, Inc. v. Superior Court, 205 Cal. App. 4th 1346 (2012).

Litigated and assisted in the successful appeal of a district court's refusal to remand for lack of complete diversity, confronting the "fraudulent misjoinder" doctrine―a matter of first impression in the Eighth Circuit, In re Prempro Products Liability Litigation, 591 F. 3d 613 (8th Cir., 2010).

Achieved a confidential financial settlement on behalf of a medical device manufacturer against the state's largest workers' compensation carrier that was alleged to have violated the Racketeer Influenced and Corrupt Organizations Act ("RICO").
Won an arbitration award for a doctor whose business partner had stolen hundreds of thousands of dollars from their medical group, secured the return of all stolen funds, attorneys' fees, plus $1 million in punitive damages.

Obtained the first California trial court ruling against Applied Underwriters holding that its contractual arbitration agreement and "delegation clause" were void and unenforceable under the Federal Arbitration Act ("FAA").

Prevented a defendant's attempt to remove a case to federal court via a loophole surrounding the timing of service, and secured a dismissal of the defendant's appeal to the Ninth Circuit.

Participated in the successful litigation, arbitration and settlement of cases on behalf of employers in disputes with their workers' compensation carriers.

Defeated an attempt to "attach" a client's real property in satisfaction of a judgment and successfully litigated the case to settlement.

Litigated and assisted in resolving various cases of idea submission/idea theft, copyright, trade mark and patents.

Resolved an employer's dispute with the California EDD and secured a refund.

Defended a trade secret lawsuit to a zero-dollar settlement.
Elected to a Seat on the City of Los Angeles Neighborhood Council, South Robertson, 2009-2011.
Delegate and Designated Resolution Advocate, American Bar Association, Young Lawyers Division, 2007 Annual Meeting.
Education
Pepperdine University, J.D., 2005

Witkin Awards for Academic Excellence: Conflicts of Law, Criminal Law and Property
CALI Award for Conflicts of Law

California State University, Northridge, B.A., Economics, 2002
Bar & Court Admissions
California, 2006
U.S. District Court, Central District of California, 2006
U.S. District Court, Northern District of California, 2006
U.S. Court of Appeals, 8th Circuit, 2008
U.S. Court of Appeals, 9th Circuit, 2009
Associations
Beverly Hills Bar Association
Los Angeles County Bar Association
Committees
Los Angeles County Bar Association, Professional Responsibility and Ethics Committee (2019-present)