Roxborough, Pomerance, Nye & Adreani is proud to announce that its Co-Managing partner, Nicholas P. Roxborough, was unanimously approved by the Los Angeles City Council as Commissioner for the Los Angeles World Airports. We are proud of Nick's continued desire to serve the greater good through public service. We therefore proudly share with you the press release issued just yesterday, on this important appointment of Nicholas Roxborough.

FOR RELEASE
March 26, 2019
CONTACT
Becca Doten
424-646-5260
bdoten@lawa.org
CITY COUNCIL APPROVES APPOINTMENT OF NICHOLAS P. ROXBOROUGH TO THE BOARD OF AIRPORT COMMISSIONERS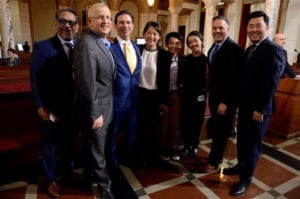 Commissioner Nicholas P. Roxborough (third from the left) is joined by his family and City Councilmembers Cedillo, Bonin, Buscaino and Ryu (left to right) after today's vote to approve his appointment to the Board of Airport Commissioners.
(Los Angeles, CA) Today, the Los Angeles City Council unanimously approved the appointment of Nicholas P. Roxborough to the Los Angeles Board of Airport Commissioners (BOAC). The seven-member board governs Los Angeles World Airports (LAWA). It is comprised of public-spirited business and civic leaders who are appointed by the Mayor and approved by the City Council. As laid out in the City Charter, at least one member of BOAC shall reside within the area surrounding Van Nuys Airport. Commissioner Roxborough serves in that capacity.
"As we work to reinvent our airport and deliver a world-class traveling experience, Nick's dedication will help our city reach new heights," said Mayor Eric Garcetti. "The Board of Airport Commissioners will be well-served by Nick's legal and public service experience."
"We are excited to welcome Commissioner Roxborough to the Los Angeles Board of Airport Commissioners, where his experience in the legal field and with other civic boards and commissions will provide a great benefit to the airport and the city," said Sean Burton, President, BOAC. "We look forward to the new ideas and insights that Commissioner Roxborough will bring to the governance of Los Angeles World Airports."
"Los Angeles World Airports is in the midst of a multibillion-dollar transformation of LAX and Van Nuys airports, and Commissioner Roxborough will play an important role in the governance and creation of policy during this era of transformation for LAWA," said Deborah Flint, CEO, LAWA. "We look forward to working with Commissioner Roxborough and benefiting from his leadership as the newest member of the Board of Airport Commissioners."
Commissioner Roxborough is a co-managing partner of Roxborough, Pomerance, Nye & Adreani, LLP, a boutique employers' rights law firm based in Los Angeles. He is a recognized leader in the field of workers' compensation law. In 2011, he was named one of the top 50 most influential professionals in the California workers' compensation industry. In 2013, he was voted one of the five most Trusted Legal Advisors in the San Fernando Valley. In 2015, he was named "Defense Lawyer of the Year" at the Comp Laude Annual Awards Ceremony.
A longtime advocate of public service and community involvement, Commissioner Roxborough served as chairman of the Board of Governors for United Cerebral Palsy in Southern California from 2012 to 2016, and chairman of the Board of Directors from 2009 through 2012. In 2013, he was appointed to the California Organized Investment Network Advisory Board by then-Insurance Commissioner Dave Jones. Previous to this appointment, Commissioner Roxborough served the City of Los Angeles as a commissioner with the Police Permit Review Panel, and most recently on the El Pueblo de Los Angeles Historical Monument Authority.
Commissioner Roxborough has his J.D. from Southwestern University. He is married with four children and lives in the San Fernando Valley.
In addition to BOAC President Sean Burton and Commissioner Roxborough, the other five members are: Valeria C. Velasco (Commission Vice President), Gabriel L. Eshaghian, Beatrice C. Hsu, Thomas S. Sayles and Cynthia A. Telles. The regular meetings of the Board of Airport Commissioners are scheduled on the first and third Thursdays of each month at 10 a.m. at the Samuel Greenberg Board Room 107 in the Clifton A. Moore Administration Building at Los Angeles International Airport, 1 World Way, Los Angeles, CA 90045. Meetings with change in day, time or location may be designated as special meetings.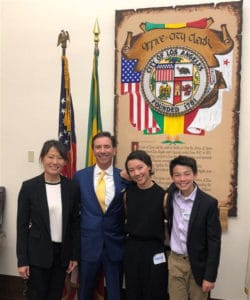 About Los Angeles World Airports (LAWA)
Los Angeles World Airports (LAWA) is the City of Los Angeles department that owns and operates Los Angeles International (LAX) and Van Nuys (VNY) general aviation airports, as well as aviation-related property in Palmdale. Both play an integral role in helping to meet the Southern California regional demand for passenger, cargo and general aviation service. Both airports make a distinct contribution to the strength of the system as it provides a high level of safety, security and service for its customers, communities and stakeholders. More information can be found at  flylax.com.
As a covered entity under Title II of the Americans with Disabilities Act, the City of Los Angeles does not discriminate on the basis of disability and, upon request, will provide reasonable accommodation to ensure equal access to its programs, services, and activities. Alternative formats in large print, braille, audio, and other forms (if possible) will be provided upon request.