Another Arbitration Agreement Declared Unenforceable
 
In a recently published decision, the Court of Appeal refused to enforce the unlawful arbitration clause found in Applied Underwriters' Reinsurance Participation Agreement (RPA) with Luxor Cabs, one of the oldest cab companies in San Francisco.  The decision, originally filed on December 4, 2018, was certified for publication on January 3, 2019, in response to efforts by attorneys at RPNA who worked diligently to secure its publication for California's Business Community.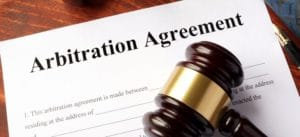 In 2015, RPNA Partners Joseph Gjonola and Nicholas Roxborough filed suit on behalf of Luxor against Applied in San Francisco County Superior Court over the arduous terms found in the RPA–a centerpiece of Applied's "EquityComp" workers' compensation insurance program. In response, Applied moved the trial court to compel Luxor to arbitrate its claims. Luxor countered that the RPA's arbitration clause (and the "delegation clause" within it) were each void and unenforceable, having been issued without the Insurance Commissioner's approval.
The trial court agreed, barring Applied's bid to force Luxor into an arbitration that, under the RPA's terms, would have likely taken place in the British Virgin Islands under Nebraska law. Applied appealed to California's 1st District Court of Appeal.
The Court of Appeal affirmed the lower court's decision in full. The appellate court agreed that the arbitration clauses qualified as policy "endorsements," and therefore should have been submitted to the Insurance Commissioner for approval as required by the Insurance Code. The Court ruled that Applied was not permitted to issue the unapproved arbitration agreements, and consequently the agreements are illegal and entirely unenforceable.
RPNA maintained that the entire RPA is similarly void because none of its terms received the Commissioner's approval. Procedurally, the appellate court was not in a position to rule on the validity of anything but the arbitration clause. Luxor looks forward to returning to the trial court where it will seek a decision that the RPA is also unenforceable, and pursue Applied for the extensive damages Luxor suffered as a result of the EquityComp program.
Click here to read or download a copy of the published decision in Luxor Cabs, Inc. v. Applied Underwriters Captive Risk Assurance Co.